As far as pellet stoves are concerned, Germany is considered to be one of the countries where the contemporary model of a wood stove was first introduced and put to use. Germany is at the moment a large manufacturer of pellet stove items. Thus, pellet stoves at present dominate at the German market and offer a broad range of stove models.
Moreover, the increased biomass usage in Germany leads to bigger demand for pellet stoves which have broad range of functions apart from heating nowadays. By way of example, one of them being a conventional range cooker stove. This model of a stove is extremely popular in Germany nowadays as it allows you to both cook and bake on it. So called boiler stove models are also available, which, apart from standard options, also provide hot water. One more type of pellet stoves which is becoming more and more popular in Germany is morso stove model, though it is not much in use at the moment.
Pellet stove usage
In order to be able to understand properly the reason for pellet stoves (or pellet ovens) becoming so popular, one should familiarize oneself with the mechanism of their work as well as the advantages they bring. The main thing about stoves operating on pellets is that they use wood as fuel just like regular log-burning stoves, though they do it with much more efficiency. By way of example, while 1 kg of pellets can normally produce 5 KWh of heat, 1 kg of logs or any kind of firewood can only provide 3.5 KWh of heat. Another important advantage is that stoves operating on pellets can supply the whole central heating system with power, that is, a single separate pellet stove is able to produce heating and warm water for a whole house. It should also be noted that central heating systems are often combined with solar panels, which is quite efficient and energy-saving due to the fact that solar panels are responsible for the central heating during summer periods. Another pleasant thing about pellet stove is that, due to its design, it is much easier and more convenient to use - the customer does not have to chop woods or light up matches in order to make it work-and the amount of wastes and ash by-products is considerably lower than with the traditional log-burning stove.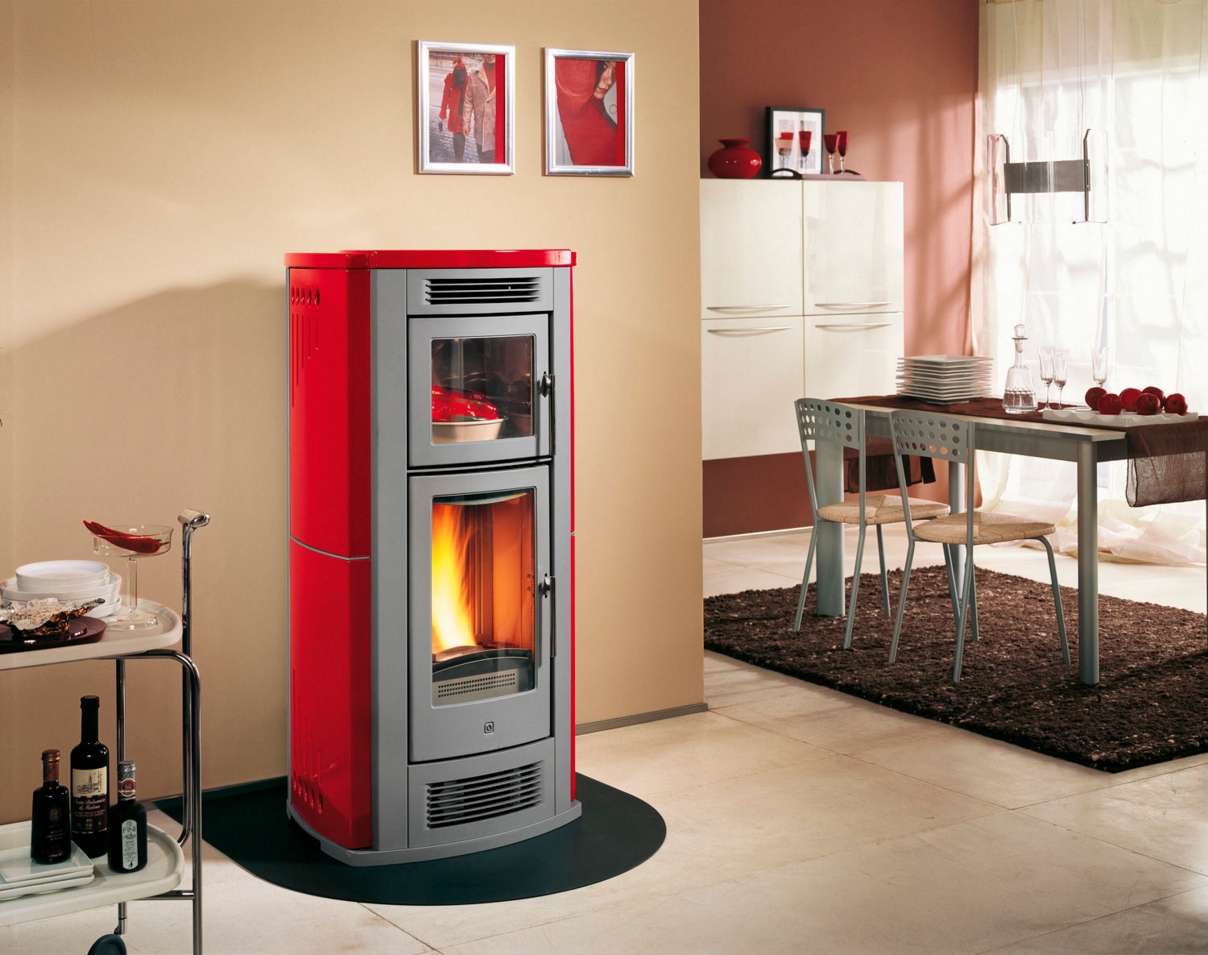 It should also be taken into account that the mechanism of the usage of a pellet stove is rather easy. First of all, for the time being, the market offers a broad range of pellet stoves and water-heating systems, that is, they are available for sale in all sizes and shapes, so as to fit any area and meet the demands of any customer and suite individual furnishing styles. Second of all, a pellet stove is switched on automatically-with the touch of a button. Inside such stove, there is a special pellet storage tank. From this tank, pellets are automatically fed into particular burning chambers. Inside the chambers, pellets are ignited electronically. It should be mentioned that the tank is filled with pellets by hand - the users of pellet stoves also often use particular 15 kg pellet bags. After the storage tank is filled up with pellets, the rest of the process happens completely automatically. The stove is controlled by a special thermostat, and the optimal balance between the amount of pellets, the combustion air and the right temperature for operating is controlled by the system of digital electronic monitoring built into the stove. It should also be noted that such pellet stoves are equipped with a special window, which means that the customer is able to enjoy the glowing of flames just like in a regular fireplace.
As far as pellet stove design is concerned, for the time being, there are already pellet stove models which one can switch on from a distance with the help of a phone. One should also distinguish between so called air-formed pellet stove models and water-bearing ones. The latter are also known as central heating stoves and stoves with water pockets. The difference is that air-formed pellet stoves are constructed only for the production of radiant heat while water-bearing stones generate a certain amount of heat for a single room and at the same time, similarly to a central heating boiler, they release heat mostly in the form of hot water, which can be thus used for the supply of the whole heating system-different rooms, floor heating and the supply of hot water. It should be taken into account that these pellet stove models can also be used as completely automatic heating systems-they can be connected to an automatic filling system from a pellet storage tank.
To sum up, it is clear that the implementation and usage of stoves operating on pellets in households brings much more efficiency and helps to save both the money and the environment.
German pellet stoves market development
Nowadays, one cannot help but mention that the screw conveyor for feeding pellets to the burner is becoming an inherent symbol for the development of wood pellet market and the market of pellet stoves and other pellet heating systems as well. It should be taken into account that over the course of the last years the amount of installed pellet systems has grown very slowly while the politicians were trying to implement new policies and investments. In spite of all positive arguments, millions of old heating systems are waiting to be changed. The conversion to pellet heating systems and pellet stoves let their owners reduce costs for energy and use 100% renewable and ecologically friendly heating energy. So what are the opportunities for the wood pellet stoves market for today?
Since the emerging of wood pellet market, the heating with the help of wood pellets has significantly developed as a cheap alternative to fossil fuels such as oil and gas. It is clear that the difference in prices became noticeable when the price of oil began to remain at a constantly high level. However, the sales rates of pellet boilers and stoves tend to move in the opposite direction to the development of prices for fossil fuels. From the beginning of 2008 until the end of 2011, the overall amount of pellet installations in Germany grew to the modest rate of 50,000 installations. In 2010 the share of biomass heat generator from the overall sales volume of heat generators (oil and gas heat generators, heat pumps, and biomass) was only 3.1%. The bigger shares had low temperature oil boilers (6.1%) and heat pumps (8.3%). Despite the market incentive program, which was supposed to make pellet installation usage more popular as well as increase the sales figures. Everything remained far below expectations and so far has not contributed significantly to the resolving of pellet modernization problems in Germany.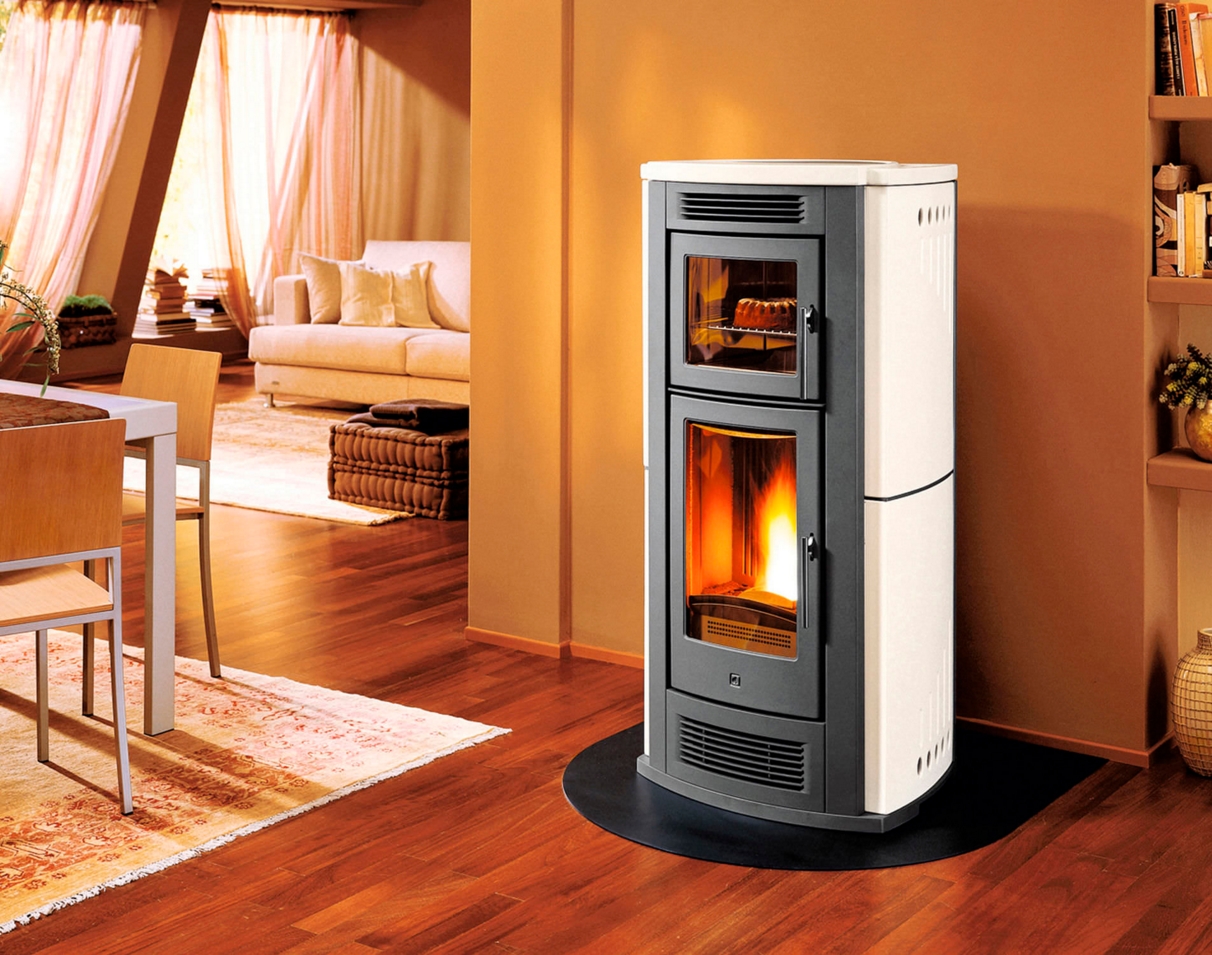 The biggest driving force for pellet stoves and boilers transition was supposed to be high prices for fossil fuels. However, nowadays this driving force does not seem to live up to the market development expectations as, for the time being, oil prices are constantly falling. This fact leads to the economical unviability of wood pellet stoves. Nevertheless, pellet stove market in Germany continues its development. The heating itself shows partly in responsive designs and provides more flexibility in the pellet feed and preparation. There is a new feature of some producers to make the wood pellet stoves more easy to use by adapting them to the new communication technologies - Smartphone & Co. It takes over the function of the boiler control panel, so that the boiler can be started even during the return journey from the short break on the road. Another trend, which clearly emerges on the pellet stoves market and is offered by a range of manufacturers, is the interest of many pellet stoves customers in combi pellet boilers and stoves, which can burn efficiently and without conversion of both wood pellets and pieces of wood or wooden chips.
Increased subsidies for pellet stoves usage in Germany
First of all, it should be noted that the biggest pellet market in the world is represented by the European Union. According to approximate evaluation provided by German Biofuel Portal, around a half of the 24.5 million metric tons of pellets produced worldwide originate from Europe. The consumption of wood pellets in Europe plays a significant role as well - about 80% (equal to 18.3 metric tons) are used by the European states. This fact is very important for the development of pellet stoves market.
To improve the situation, the authorities of Germany set a new legislation which implies increased subsidizing. The subsidies are to be given to the persons who are eager to change their old heating systems for new pellet boilers and stoves. The government of Germany decided to increase the basic subsidy for heating systems which work on pellets and have capacities of up to 100kW from 36 Euro per kW to 80 Euro per kW. Moreover, the authorities of Germany decided to boost the minimum subsidy by 600 Euro. Those who want to upgrade their heating systems to pellet boilers without buffer storage receive 3,000 Euro subsidies at the moment. At the same time, one can receive 3,500 Euro for pellet boilers with buffer storage and 2,000 Euro for pellet stoves with water jackets. In the future, it is planned to increase the subsidies costs even more. Household owners who are to replace their existing heating systems with pellet considering boilers and stoves will receive up to 5,250 Euro, and grants of up to 3,500 Euro will be awarded for new buildings.
German pellet stoves efficiency and emissions
According to the experts' estimates, 2.15 million tons of pellets were consumed in Germany in 2014. The 60 percent amount of 2.15 million tons was burnt in pellet stoves and pellet boilers smaller than 50 kW. According to the estimates of the analysts, at the end of 2014 it is expected that the amount of pellet stoves in the residential areas would reach the number of 116,500 in Germany, Moreover, it is also expected that 321,000 boilers which work on pellets for residential areas and commercial usage as and are smaller than 50 kW and 10,500 strictly commercial applications greater than 50 kW, some of them have facilities able to produce heat-and-power by the cogeneration.
Bundes-Immissionsschutzverordnung, organization engaged in the control of emissions, stated that the rated output of boiler or pellet stove of 4kW should have special measurement requirements. Purchasers of pellet stoves have compliance with the emission requirements for dust and carbon monoxide by making a declaration of emissions every 2nd year. Currently available on the market pellet stoves should meet measurements in accordance with 0, 06 g/m³ dust and 0.8 g / m3 greenhouse gas since 2010. On the first of January 2015 limits of 0.02 g/m3 dust and 0.4 g/m3 carbon monoxide are to be met for newly installed pellet stoves.
Pellet production impact on German pellet stoves
As far as the German pellet products market is concerned, 2015 was quite a difficult year. The expert of German biofuel portal biomassa.de reports that the reason for this is a significant decrease of prices on the market of oil and fossil fuels. Due to this fact, only around 2 million tons of wood pellets were produced thus year and hence only 16,000 furnaces and boilers which can produce heat from pellets were installed. The similar situation in 2015 was on the renewable heating market. It should be noted that according to the forecasts, pellet boilers and stoves in the amount of 40,000 were to have been sold throughout Germany. Instead of this figure, the actual number mounted up to only 32,500 items sold nationwide. This shows that there was a slight, 10 per cent, decrease of sales on the market as compared to 2014-during that year, the total amount of 38,500 pellet boilers and stoves was sold in Germany.
As a result, in April 2015, a particular incentive program for renewable energies (MAP) was introduced. Starting from that time, there has been an increase of the invested funding rates - they rose by 20 per cent in January 2016 due to APEE, which stands for action program of energy efficiency. Thus, it is expected that in 2016 there will be higher demands for pellet boilers and stoves on the market - the increase in sales began in autumn 2015.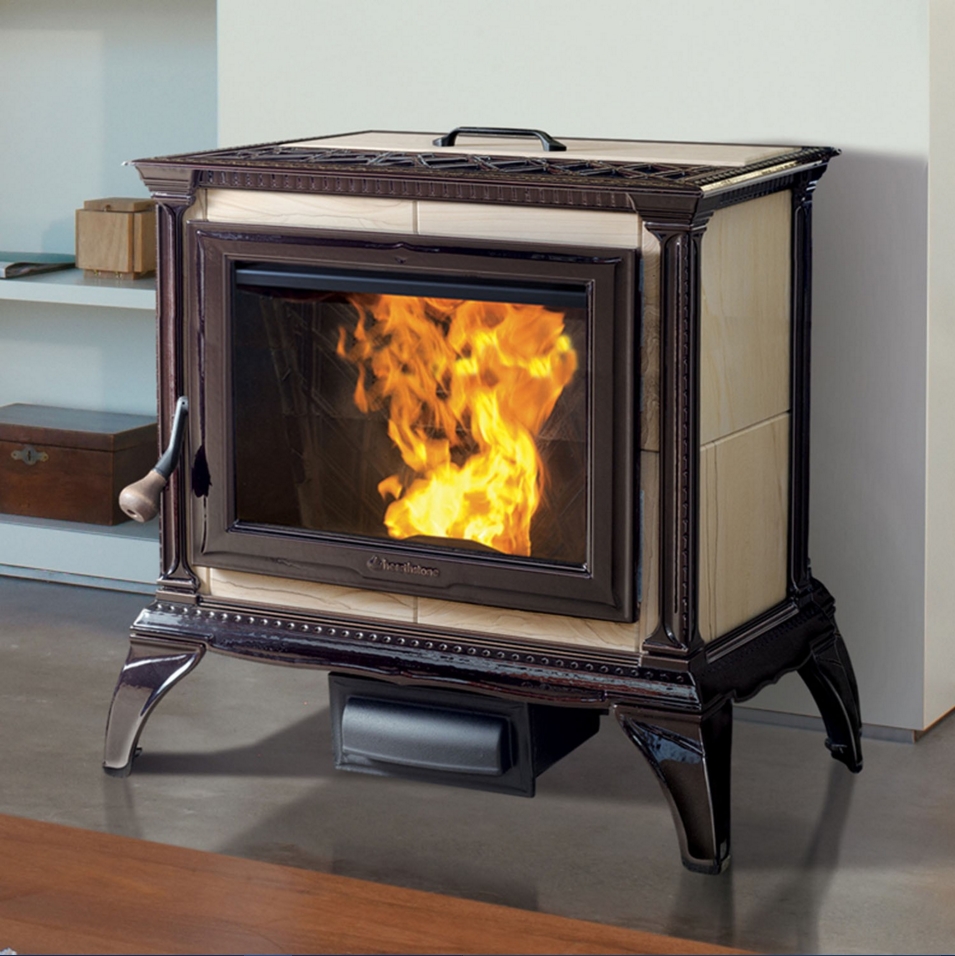 Karl Brunner, the expert of German Biomass portal biomassa.de, states that it is not enough to create good funding conditions and make higher investments. He considers that the main thing is for people to realize that by switching to pellet boilers and stoves, they help to implement the policy of climate protection and will be rewarded with high savings of CO2 as well as ample investment subsidies.
The statistics shows that at the beginning of 2016, 20,000 pellet boilers and 18,000 wood pellet stoves were sold nationwide.
To sum up, pellet burning stove and boiler models are a contemporary break-in on the renewable heating market in Germany, and they are constantly becoming more popular. By installing them into the household, the consumer does not only save the money, but also enjoys a much more efficient, energy-saving and convenient system of heating. Moreover, stove pellets are also environmentally-friendly as they contribute to the climate change policies.
However, the pellet stoves market in Germany is at present in a difficult state. The main barriers for the development of wood pellet stoves market in Germany are low oil and fossil fuel prices. This leads to wood pellets economical unviability. Moreover, the fall of fossil fuel prices made the wood pellets more expensive and non-profitable fuel to be used for heating.
However, in the future the legislative basis for the increased biomass usage in Germany will promote wood pellet market and wood pellet stoves market in particular. This is going to be implemented by subsidizing and setting legislative requirements for biomass usage.