Pallet price

Price: 6.30 EUR
09.09.2019, 05:09
4 trucks Euro pallets required monthly
I neead 4 trucks Euro pallets monthly, humidity 18%, free delivery Germany, price 6,30 €. If you could fulfill the offer, I'm interested.

EPAL pallets needed to Hamburg
Our company is looking for EPAL pallets offer on DAP to Hamburg, DE for full trucks. Considering all offers.

Pallet Element (Boards) Pine Wood SIZES available: 22*75*1200 22*98*1300 22*122*1300 16*98*1100 16*75*1100 75*98*1000… or you may order any o..

Intermediates for europallets purchase, large quantity
French group will buy intermediates for europallets of large quantities, and also their prepared raw material, used and new finished pallets.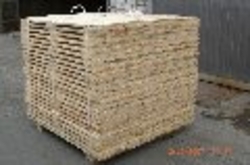 German company buys intermediates for europallets
We constantly buy intermediates for europallets.
Pallets in Germany
OFFER POSTING GUIDELINES
Featured Events